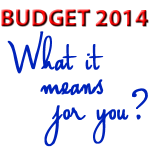 In the weeks leading up to yesterday's 2014 federal budget the Australian media were filled with warnings of drastic measures and changes. So when Joe Hockey started his budget speech last night including "Our future depends on what we as a nation do today", few expected to come out a winner. Are the changes beneficial longer term and what does the 2014 budget mean for you and your business?
We have sourced a variety of leading  and analysis commentary of the 2014 budget changes and the impacts to individuals, businesses and our country.
2014 Budget: What It Means For You
Below are a variety of leading commentary and analysis regarding the 2014 budget and how the changes will impact you.
Source: ABC
Title: Winners and Losers of the 2014 Budget
Read Time: 2+ minutes
Source: news.com.au
Title: Federal Budget: The 5 Minute Guide
Read Time: 2+ minutes
Source: The Economist
Title: Slashing and Burning
Read Time: 1 minute
Source: SMH – My Small Business
Title: Budget update for SMEs – Take advantage of tax deductions before they disappear
Read Time: 1 minute