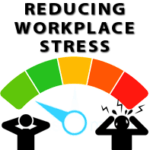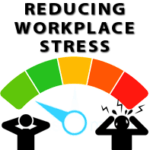 For many people stress has unfortunately become a constant in daily life. Irrespective of the level of stress a person experiences, the stress will impact their work as well their personal life. Both internal work pressure and external personal factors affect an individual's mental and physical well-being.
In today's social media and highly connected society, people are facing an increased variety of personal and professional pressures. The demands of fitting in work and life can take a toll if not managed carefully. Dealing constantly with deadlines, conflicting priorities, customer needs, appointments, etc. can become stressful for some. By assisting your staff to proactively manage workplace stress, you will help improve their job satisfaction as well as their ability to perform tasks at a higher level. An active approach to workplace stress management is a win/win for all involved.
Employers can take 6 simple steps to assist workers in reducing workplace and personal stresses.