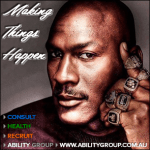 Our tag line represents our approach to business in assisting our clients and partners by Making Things Happen. It should be no surprise that one our favourite quotes is from the 6 times NBA champion and the greatest basketball player of all time, Michael Jordan.
Michael Jordan quotes is "Some people want it to happen. Some wish it would happen. Others make it happen."
ABILITY GROUP provide specialist services and solutions for clients of all sizes across industries. We have a track record in Making Things Happen for our clients and partners.
Some examples of how our Making Things Happen for our partners and clients:
ABILITY GROUP Saves Client $165,000
ABILITY GROUP Saves Client $85,000
ABILITY GROUP Saves Newest Client $350,000