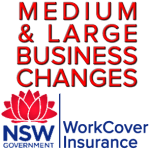 In January we communicated Upcoming NSW Workers Compensation Changes and how these were likely to impact medium to large NSW businesses. On 18th May 2015, Vivek Bhatia (CEO of WorkCover NSW) confirmed these changes and ABILITY GROUP believe they represent the most dramatic changes in 20+ years. So what are the changes?
From 30 June 2015 onwards, the premium calculation for businesses with a NSW premium > $30,000 (i.e. medium and large businesses) change completely. In short the new premium formula is intended to reward businesses with fewer claims and a strong return to work performance. Businesses however that struggle with claims are expected to be penalised. The sweeping changes also impact what is included in premium claims costs, the view of industry, size, etc.
NSW Workers Compensation Changes – From 30 June 2015, there are what we consider the most dramatic changes in 20+ years. Details will be finalised in the Insurance Premium Order (IPO) released in June 2015 yet the following provides overview of the sweeping changes.
Consistent with the previous small business reforms, the key principles for latest medium to large business reforms are:
Deliver easier to understand premiums
Provide safer workplaces
Improve RTW and recovery at work outcomes
Reduce administrative "Red Tape"
Deliver sustainability and certainty
What's gone?
ICCR – Industry Cost of Claims Rate
ECCR – Employer Cost of Claims Rate
S – Size factor
E – Experience Premium
What's new?
Additional T-Caps designed to provide greater capping limits for businesses
CPR – Claims Performance Rate
ESI – Employer Safety Incentive
ESR – Employer Safety Reward
RTWI – Return to Work Incentive
What changes?
Claims Costs – Paid + Estimates become paid weekly wages
BTP (Basic Tariff Premium) becomes APP (Average Performance Premium)
Medical, rehab, investigations and legal costs excluded from claim costs impacting premium
For further details, please refer to:
Source: WorkCover NSW
Title: Your Insurance Premium User Guide
Read Time: 5 minutes