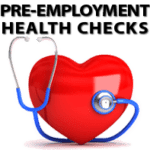 Pre-employment health screening processes are a cost effective strategy to help appropriately place prospective employees in an environment that is suitable to their physical and psychological capacities. Pre-employment health screening process gathers information to help determine whether an individual is fit to perform the upcoming role tasks without risk to themselves or others in the workplace.
Pre-Employment Health Screening – Previously the application of medical principles was a static approach. Recently techniques of systematic review of data of clinical guidelines and economic analyses have become more established. The application of these methods in occupational medicine will improve the quality of prevention and would also enable practitioners to give more soundly based advice and to secure their professional positions as providers of quality assured information.
The consensus was that fitness for work is mainly determined by physical demands and not by medical conditions (with psychiatric conditions a possible exception). In addition, the assessment of fitness for work is a better predictor of future health outcomes and costs than medical diagnoses.
Any health assessment should be appropriate to the requirement of the job role. Medical assessments are only justified when the job involves working in hazardous environments, requires high standards of fitness, required by law or when the safety of other workers or of the public is concerned.
Generally, a health assessment by questionnaire should suffice and physicians should advise against the application of physical or mental standards that are not relevant to fulfillment of the essential job functions.
Accordingly, to satisfy duty-of-care requirements without discriminating against people, it is important to undertake a case-specific assessment of risk. To accomplish this, knowledge of the relevant medical history, the proposed job and the work location is required. There are numerous benefits to conducting pre-employment medical assessments. These includes a safer work environment, reduction in workplace injuries and in turn this will minimise downtime and WorkCover claims/insurance costs. This method also helps match capacity of the employee to the role and promotes the reduction of risk and costing.
To ensure validity of the screening procedure it is important that assessments are performed by a health care professional. Here at ABILITY GROUP / HEALTH ABILITY pre-employment screening is done in a timely and accurate manner to optimise quality in health data management and communications. If you think your business would benefit from pre-employment health screening tailored to your workplace, contact ABILITY GROUP / HEALTH ABILITY to discuss giving your company the tools to become a proactive health platform.