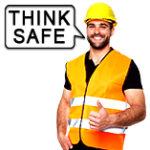 Australian Physiotherapy Association (APA) noted SafeWork Australia data identifies although tradies make up less than one-third of the Australian workforce, tradies account for 51% of serious workers compensation claims. Injuries typically require 5-6 weeks off.
Being A Tradie Is High Risk – In light of this recent information, we would like to highlight the need and importance of having clear WHS procedures and to offer appropriate training to tradespeople in order to prevent accidents from happening.
Workers should be encouraged to take reasonable breaks, work as a team whenever possible and they should also be held accountable for making sure that safety procedures are followed accordingly whilst undertaking their duties.
The association recently launched a new-age tradie site offering guidelines on exercises for the proper way to lift, step up and off platforms and ladders.
Tradies National Health Month which commenced today will put a spotlight on tradies' health in the workplace.
Safe Work Australia CEO Michelle Baxter says the most common cause of injury involves muscular stress while lifting, carrying or putting down objects and the most common type of serious claim involves traumatic joint injuries. She encouraged tradies to make their health and the health of their co-workers a priority.
Source: Safety Culture
Title: Tradies Putting Health At Risk Says Physiotherapists
Read Time: 1 Minute