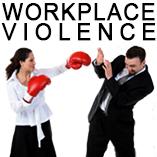 Unfortunately workplace violence accounts for over 9% of Australia's workers compensation claims. Workplace violence can result in both physical & psychological injuries with the age care industry being more susceptible. Providing workers support and assistance is important in minimising risk and injuries.
Workplace Violence
More than 12,000 workers compensation claims were made in the aged care industry over the past 3 years. says incidents involving violence toward staff are common in aged care, especially in dementia units. With an ageing population, ensuring staff are able to cope with the aggressive behaviour associated with some types of dementia is an important issue for aged care providers and work health and safety regulators. For those working with people with challenging behaviours, dealing with violence can be a part of their everyday activities.
Mr Tony Robinson, Director of Specialist Services at SafeWork NSW says "the most important WHS strategies to address violence at work include making sure employers understand their duties, workers understand how to identify hazards and risks related to work-related violence, and that they can choose appropriate control measures and respond to incidents,"
Support from management is also vital to maintaining best practice systems and keeping staff well trained. Record keeping is a must in order to identify behavioural triggers so carers can log and avoid situations that lead to violence.
Need help, contact us to discuss.
Note: previously covered as Occupational Violence
Source: SAFEWORK
Title: Workplace Violence in Aged Care: Part Of The Job?
Read Time: 2 minutes